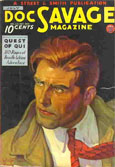 Doc Savage
Publisher:
Street and Smith
Publication range:
March 1933-Summer 1949
Clark Savage Jr., or "Doc" as he was widely known, made his first of 181 pulp appearances in the March 1933 issue of
Doc Savage
magazine. Doc was joined by his five brilliant-minded aides — Renny, Johnny, Long Tom, Ham and Monk — and sometimes his younger cousin, Pat Savage. The team, financed by ancient Mayan riches, traveled the world for the excitement of righting wrongs, in accordance to Doc's creed (see below).
Doc Savage
was
Street and Smith's
second character pulp magazine and created in response to the success of the first
character pulp
magazine,
The Shadow
.
Information about the individual characters in the series.
Doc Savage and his team were guided a simple creed, created by writer
Lester Dent
:
Let me strive every moment of my life, to make myself better and better,
to the best of my ability, that all may profit by it.
Let me think of the right and lend all my assistance to those who need it,
with no regard for anything but justice.
Let me take what comes with a smile, without loss of courage.
Let me be considerate of my country, of my fellow citizens and my associates in everything I say and do.
Let me do right to all, and wrong no man.
There is an annual Doc Con, begun in 1998, held in Arizona celebrating the legacy of the Man of Bronze.
Artist Walter Baumhofer used model Carl Hewitt as the reference for his cover paintings of Doc Savage.
---
PulpCharacters
PulpMagazines