Pulp magazines, or pulps, were inexpensive fiction magazines printed on paper made of wood pulp and sold to a mass market from the 1890s through the 1950s. A typical pulp magazine measured about 6 by 9 inches and totaled just over 120 pages, and sold for between 10 and 25 cents.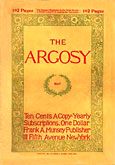 An issue of The Argosy from the 1890s.
The October 1896 issue of
The Argosy
is commonly considered the first pulp magazine. Published by the
Frank A. Munsey Co.
,
The Argosy
was a reworked version of a general information magazine titled
Golden Argosy
. Munsey is remembered for considering the story more important than the paper it is printed on, which led to his decision to switch
Argosy
to an all-fiction format and print it on low-quality pulpwood paper.
Munsey
's
Argosy
was a natural evolution of the dime novel, a tabloid-size story papers full of melodramatic and inspirational fiction.
Other publishers followed
Munsey
's lead, and within 20 years, numerous publishers, such as
Street and Smith
were selling pulp magazines.
As the name implies, pulp magazines were inexpensive, popular magazines printed on paper made from the cheapest pulpwood. Publishers weren't very concerned with the durability of the magazines, only that they were able to crank the magazines off the presses and get them into the hands of readers as cheaply and as often as possible.
A typical pulp would include several short stories and serialized novels. With the advent of the
single-character pulps
in the 1930s, the magazines began to include a complete lead novel in each issue.
Pulp magazines were usually around 6 by 9 inches in dimension, though
bedsheet
varieties were around 8-1/2 by 11 inches, and
digest-size
pulps were about 5-1/2 by 8-1/4 inches.
They contained three general classes of fiction: the short story; the novelette; and the booklength novel. Short stories were the most common and generally ranged under 15,000 words. Novelettes, literally "little novels," ran from 15,000 to 40,000 words. Booklengths, generally 50,000 words or more, could run complete in some pulps. Many earlier pulps often ran booklengths in serial form in three or four consecutive numbers.
The pulps were easily recognizable when compared to "slick" magazines, such the
Saturday Evening Post
or
Time
magazine, which were printed on slick, higher-quality paper. The pulps also typically had rough, untrimmed edges.
But the difference between the pulps and other magazines didn't end with appearance; it extended to the quality of content. Escapism was the pulps' main goal, and they used any method they could to achieve that goal. Colorful, outlandish and sometimes risque covers beckoned newsstand perusers to escape into the magazine. And the stories inside were equally as colorful, outlandish and sometimes risque.
Pushing Depression-era woes out of their minds for a short while, readers were able to escape into realms of science fiction, horror, fantasy, crime and mystery, sports, westerns, romance and adventure through the pulps.
The pulps reached their zenith in the 1930s, with more than 1,000 different pulp titles published during that period. Paper shortages during World War II spelled the beginning of the end for the magazines. By 1949,
Street and Smith
had folded its pulp magazine because of declining circulation.
Changing tastes after the war and competition from radio, television and inexpensive paperback books took their toll on the popular fiction magazines. By the end of the 1950s, pulps, for the most part, were history.
A few magazines lingered as
digests
, such as
Astounding
(later renamed
Analog
), or evolved into
men's magazines
, such as
Argosy
.
Among the more famous authors who got their start during the half-century of the pulps were:
Edgar Rice Burroughs
,
H.P. Lovecraft
,
Isaac Asimov
,
Dashiell Hammett
,
Louis L'Amour
,
Ray Bradbury
,
Erle Stanley Gardner
,
John D. MacDonald
,
Max Brand
,
Robert Heinlein
,
Robert E. Howard
and
Robert Bloch
.
Many of the pulp authors wrote under pseudonyms or "
house names
," which were fictitious author names assigned by the publisher to specific titles or characters. Also, by using pseudonyms, writers were able to publish more stories, which was important since they were paid by the number of words they wrote. The more stories they had published, the more money they could make.
Pulp magazines are a specific category of magazine featuring light fiction that was fast-paced, sometimes lurid, sometimes sensational, but always written for entertainment.
As
fictioneer
H. Bedford-Jones
once said, "The fiction that is published in our popular magazines and in the standard novels commonly termed 'trash,' is turned out for the people at large. It is written for the average man in the street. It is democratic, carelessly so. It may be poor in art, in grammar and in technique — but it has to tell a story, and a good story, or it wwould not be published. Its aim is to entertain, not to point a moral."
This description of light, lurid fiction as "pulp" has been carried over to the inexpensive paperback books that appeared in the 1940s and 1950s, and, even today, with movies such as
Pulp Fiction
. In truth, none of these fall into the "pulp" category as covered by
PulpWiki
or
ThePulp.Net
.
The following 29 page(s) belong to PulpMagazines
---
CategoryCategory