The mysterious Shadow blazed onto the newsstands in 1931 and for 18 years, battle evil with the aid of a team of agents.
The Shadow
was one of the most popular pulp heroes.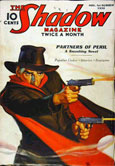 The Shadow
Publisher:
Street and Smith
Publication range:
April 1931-Summer 1949
The April 1931 number of
The Shadow: A Detective Magazine
introduced readers to the black cloaked avenger with blazing twin automatic pistols. The magazine was
Street and Smithís
attempt to take advantage of the popularity of the announcer for its ìDetective Story Hourî radio program, a mocking voice called The Shadow.
The Shadow
was an immediate hit on the newsstands. By the October 1931 issue, it began appearing monthly; within a year, it would be publishing twice a month. It continued at that rate until paper shortages in World War II forced it to return to monthly publication.
The Shadow
folded with the Summer 1949 number, when
Street and Smith
canceled its remaining four pulps.
Walter B. Gibson
, under the house name
Maxwell Grant
, penned a majority of the 325 lead novels that appeared in
The Shadow
pulp magazine. Other writers who used the Grant penname included
Theodore Tinsley
and
Bruce Elliott
.
In the 1960s, Gibson wrote ìThe Return of The Shadowî†for a paperback revival series, but the remaining stories were written by Dennis Lynds. The 1994 movie adaptation was written by James Luceno.
Despite an 18 year pulp run, The Shadow is most remembered today for the longer-running radio program
The Shadow.
The Shadow also appeared in several short features, full-length movies and a serial, as well as a failed 1950s TV pilot. The Shadow returned to the silver screen in 1994 in a film starring Alec Baldwin as The Shadow/
Lamont Cranston
.
There have been reports that Sony is working to return the Night Master to theaters, but nothing definite has developed.
The Shadow was not ìin reality Lamont Cranston.î In the pulps, The Shadowís true identity was Kent Allard, famed aviator and explorer who had vanished some years earlier.
---
PulpCharacters
PulpMagazines